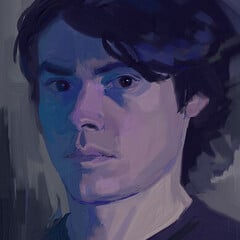 Vimes Art
Freelance Illustrator - vimesart@gmail.com
London, United Kingdom
Summary
I'm a Freelance Illustrator based in the UK with over 5 years experience. I specialize in Portrait and character based Illustrations, but I enjoy working on a variety of subjects. I've worked with various publishers, on projects ranging from realistic fantasy and Sci-fi book covers to stylized board game illustrations.
I can adapt to multiple styles and whilst my main focus is painted realism, I also love to work with line and more comic influenced styles.
If you're interested in working together or just have a question, please feel free to contact me at: Vimesart@gmail.com
Cheers!
Skills
Digital Painting
Illustration
Traditional Art
Fantasy Art
Book Cover Illustration
Sci FI
Portraiture
Character Design
Digital art
Digital Art
Line Art
Software proficiency